20 January, 2021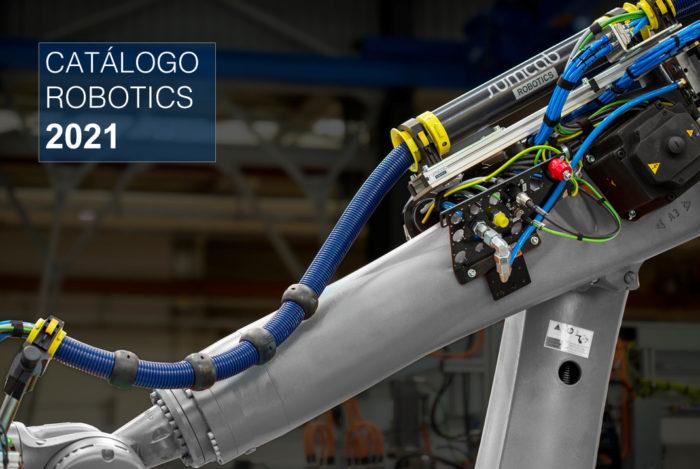 Sumcab Robotics is launching a new version of its general catalogue that includes the latest generation of energy packs, cables and highly reliable components for industrial robotics.
The portfolio offered by Sumcab Robotics continues to grow and continues to offer solutions for the automation and robotics industry both in Spain and overseas.
"We also offer a range of associated services to guarantee clients can enjoy their installations for longer, as well as the option to choose a 'turnkey' solution", says Adolfo Ibáñez, Head of Sales in the Business Department.
The following should be highlighted from this new catalogue:
The Sumoflex and Sumoslide power package systems have evolved into new versions that offer increased durability due to the materials used. These systems have been designed for the most demanding applications in the various industrial environments that require specific solutions that go beyond the basic standard. Our ongoing work with users has evolved these two dresspacks into a simpler and more reliable format while also facilitating maintenance and access to the components that comprise each solution.

The MTPReel system, which has become highly popular for automatic teach pendant cable retraction in industrial robotics, now offers more options, and can be used with any industrial machine control panel where the cable ends up in a mess on the floor. This solution offers orderly retraction and helps improve cable conservation while preventing possible trips or accidents. The result is something that boosts occupational risk prevention.

Mechatronic, the quintessential product in twist and flex applications, presents new versions to finally complete the range of existing cables for industrial robotics. This new edition of the catalogue includes an extensive list of items for power, control and industrial communication cables with "custom" pre-assembly options. If there is one thing that identifies Sumcab Robotics, it would be the slogan "if it doesn't exist, we'll make it". This highlights the value proposition that sets our company apart through the manufacture of non-standard cables.

Finally, Sumcab Robotics is expanding its portfolio of services as a way to encompass the entire approach adopted by the company while offering unique value in the market. This step seeks to free the user from the time needed to select, install and optimise the best guiding system solution based on the robot model in question and the application thereof. The knowledge and experience offered by our team leads to increased durability for the solution, regardless of how aggressive its environment or movement programme may be.
Sumcab offers a full list of products and services that range from a mentoring service throughout the process to the development of specific products for the required application. The comprehensive approach adopted by our company makes all the difference and includes the installation, optimisation and maintenance of both new and existing systems.