13 April, 2022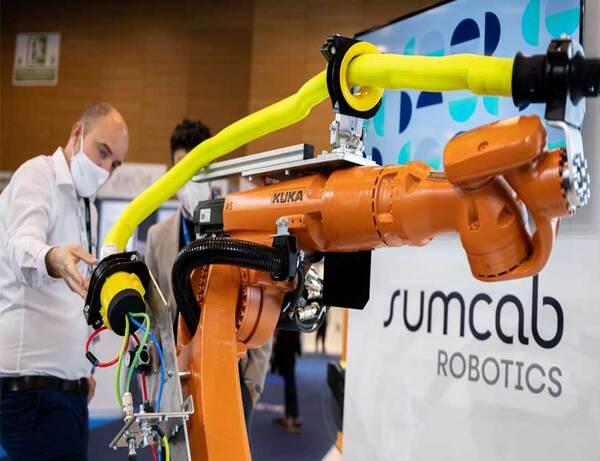 Sumotex is the new energy package system for industrial robots developed by Sumcab that the company presented during the last edition of Advanced Factories 2022. A system that stands out for its easy installation and adaptability, guaranteeing the energy supply to the different robot tools in an optimized way.
It is a totally innovative dresspack solution based on a set of pressure chambers assisted by its own pneumatics. At the construction level, it has a highly resistant and adaptable textile coating that allows it to work with the appropriate air pressure without losing flexibility, but with the necessary rigidity for the robot's work.
This prevents chafing, allows greater flexibility of movement and, in addition, thanks to the compressed air system that runs through its interior, it provides protection in the form of an 'airbag' against impact due to welding, hot parts or abrasion by the friction with the robot chassis. Likewise, so that the system is the most adapted to the client's needs, Sumotex is always designed after a prior study of the movements of the robot in which it will be installed, in order to thus optimize the proposed solution and avoid unscheduled stops. The entire solution is developed, so that the company also designs the hardware, rotation and guidance systems necessary to accompany the robotic movement in all its operations.
Sumotex is a development carried out in Germany, jointly by Daimler and the Sumcab energy systems production plant. Among other applications, it is especially indicated for robots assigned to tasks such as guiding material to tools, vision systems or in handling processes, among others.
The company is committed to this new system, which perfectly combines reliability and adaptability, as a solution for both the most demanding and the most unique applications.