3 July, 2023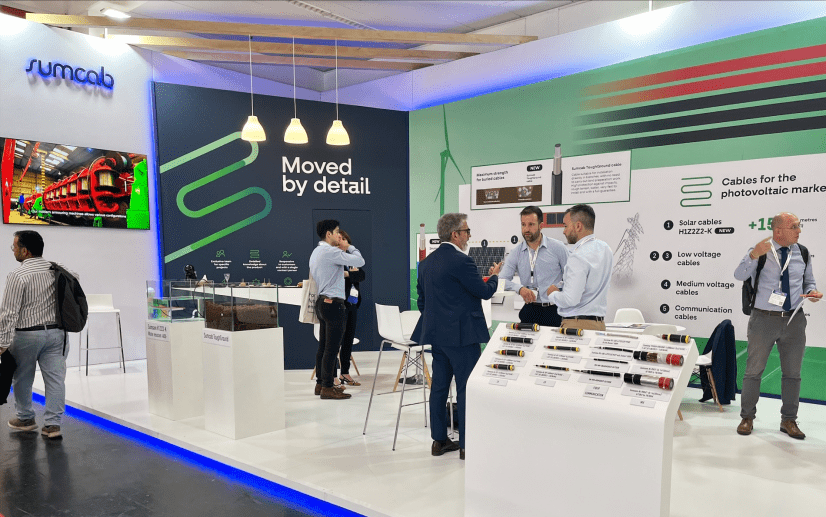 Renewable energy is here to stay. At the end of 2022, it already accounted for 40% of global installed power capacity. Meanwhile, photovoltaic solar energy installed capacity worldwide grew by 22% on the previous year according to the 2023 Renewable Capacity Statistics report published by the International Renewable Energy Agency (IRENA).
Numerous trade fairs are organised to support this promising situation and its evolution. They include Intersolar, one of the most important solar power events anywhere in the world, which will take place from 14 to 16 June in Munich. The event provides an excellent meeting point for the sector and Sumcab will be represented there by its Sumcab Projects division, which is firmly committed to its clients and projects, as well as to meticulous service and customisation when creating solutions for major infrastructure projects. Another factor that makes Sumcab Projects stand out from the competition is the support it provides throughout the development process, including its know-how on regulations, logistics and other key issues.
New Sumcab products for Intersolar
Visitors will be able to discover two new special cable products at the Sumcab stand (C4.190):
Sumcab ToughGround cable. This is a robust ultra-strong underground cable that can be installed in tough soils and demanding natural environments. Thanks to an outer casing that provides maximum strength, it can be installed directly into ditches without the need for any soil preparation beforehand. This optimises installation costs and minimises incidents caused by durability shortcomings.
Sumsave H1Z2Z2-K. This is a submersible solar cable manufactured under AD8 protection certification that means the cable can be entirely flooded permanently. This is key for cables that need to be installed at facilities with submersible or wet areas. It has also been proven resistant to solar rays, rodents and termites.
Maximum reliability for the photovoltaic industry
The event in Munich will also provide an opportunity to present the extensive portfolio of solutions for photovoltaic installations. These solutions consist of medium- and low-voltage cables and communication cables (solutions that complete these projects and photovoltaic installations) and solar cables, which carry the energy itself to storage batteries. They have all been developed according to the most rigorous quality standards to withstand the most demanding environmental conditions.
'Moved by detail': this is how Sumcab Projects defines its work philosophy when undertaking a project. The company has 25 years of experience in working shoulder-to-shoulder with its clients on the development of solutions for their projects or exports. Its expertise has already spread to more than 50 countries through projects it has completed overseas.