17 February, 2023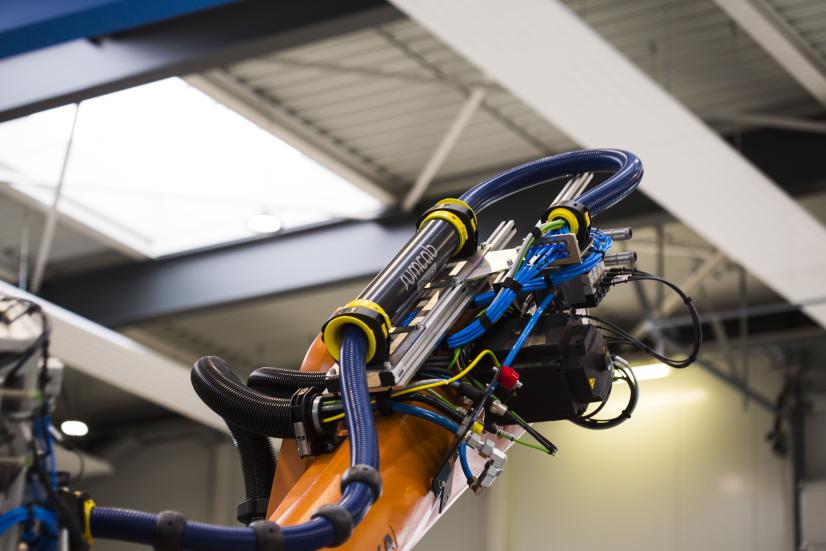 Corrugated tubes are essential in a multitude of applications, especially those that require energy systems on industrial robots because they protect the cables and tubes supplying data and energy to the tool with a tidy guidance system along the axes.
The composition of the multi-layer S-Type corrugated tube from Sumcab Robotics provides extreme durability and reliability because of its contribution to a longer lifespan for the pneumatics cables and tubes it houses within its interior. The components used to manufacture this tube make it highly resistant to flexing, twisting and abrasion. It can also withstand a wide range of temperatures and is highly resistant to oil, spatter and cutting fluids. Its triple layer composition offers a huge advantage insofar as that it enables preventive maintenance based on its wear indicator. Due to the constant rubbing with the cast iron on the robot and the continuous movement cycles, corrugated tubes wear down over time. This can lead to damage to the tubes inside and the cable sheaths, resulting in unscheduled production downtime.
Sumcab Robotics has therefore created an innovative wear indicator based on three separate colour layers. When the protective layer is intact, it appears blue. However, this changes to yellow as wear increases. When this happens, the owner knows that the cable requires some scheduled maintenance. Finally, the red layer indicates maximum wear and suggests some urgent maintenance on the tube. Our technical team will immediately travel to the production plant to undertake preventive maintenance and check the condition of the corrugated tube, as well as the lifespan of the assembly as a whole, quickly replacing any components that may be damaged.
Sumcab Robotics includes this corrugated tube (available from 29 mm to 70 mm to cover every possible scenario) with all its Sumoflex energy systems, regardless of the number of cables or tubes installed inside it.